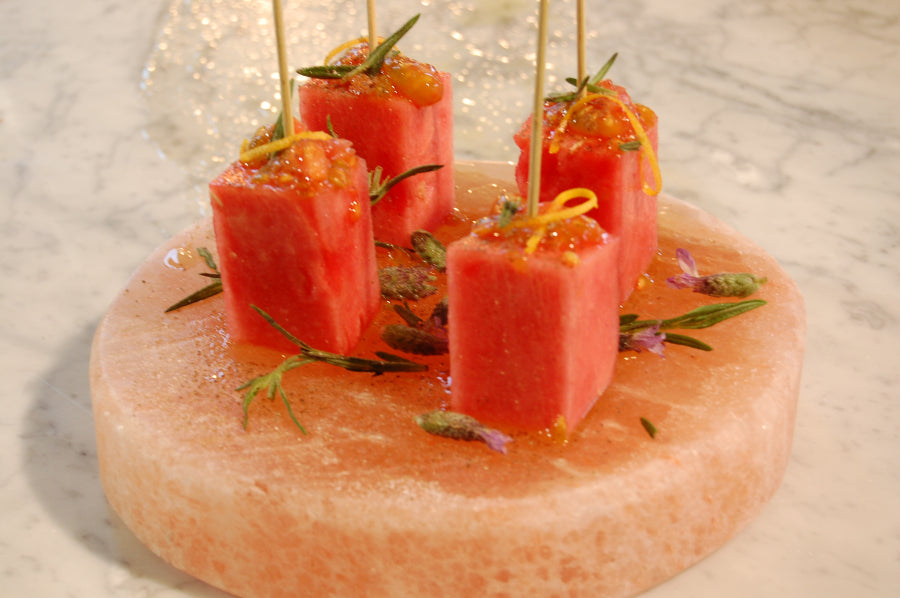 November 09, 2022
Originally posted on my old blog May 15, 2010, This delicious and visually stunning dish speaks of warm summer days and elegant, easy entertaining. I especially love and appreciate how these simple, wholesome ingredients can be combined in such a highly creative way for the most gorgeous artistic presentation and sensual flavor combinations. With less than 7 minutes of prep time, it doesn't get any easier than this – and, it reminds me of growing up in the south where salt on watermelon is the standard. In my version of world-renown Chef Ferran Adria's recipe, (often referred to as "the Salvador Dali of the kitchen"), we can now have watermelon on salt. This has become one of my summer favorites.

The subtle layers of flavor pair especially well with summer grilling and wine tasting. To finish the dish after the watermelon has vanished, soak up the remaining olive oil-yuzu, rosemary, and pepper mix with fresh cut sourdough bread.

Instructions:

Chill watermelon and cube to bite size pieces (approx 1 ½" cubes). Cut cherry tomatoes in half and scoop out seeds, set aside for garnish. In a bowl, add olive oil and yuzu or lime juice, and a pinch of HimalaSalt. Whisk with a fork to form an emulsion. Zest the lemon with long curls for visual appeal, set aside for garnish. Pick leaves, buds, and flowers off rosemary, set aside. Chop chives, set aside.

Arrange watermelon cubes on chilled HimalaSalt salt plate, spoon 1 tsp of tomato seeds on top of watermelon cube, drizzle olive oil emulsion over cubes, give about 3-4 grinds of HimalaSalt organic Tellichery pepper, grate the HimalaSalt Zen Cube over each one to fully open flavors. Place bamboo skewers into the center of each cube. Garnish by sprinkling with chives, rosemary leaves and blossoms, and finish with lemon zest.

TOTAL TIME: Less than 7 minutes.
Ingredients

Organic watermelon (seedless if possible)
4 organic cherry tomatoes
1 organic lemon
4 tbsp organic olive oil
Several sprigs organic rosemary with blossoms
HimalaSalt Organic Tellichery Pepper
HimalaSalt Zen Cube for finishing
4 sprigs organic chives
1 tsp Yuzu juice (or substitute fresh lime juice)
HimalaSalt Salt Plate (chilled for one hour in freezer)
Short bamboo skewers (enough for each watermelon cube)




* Prepared by Melissa Kushi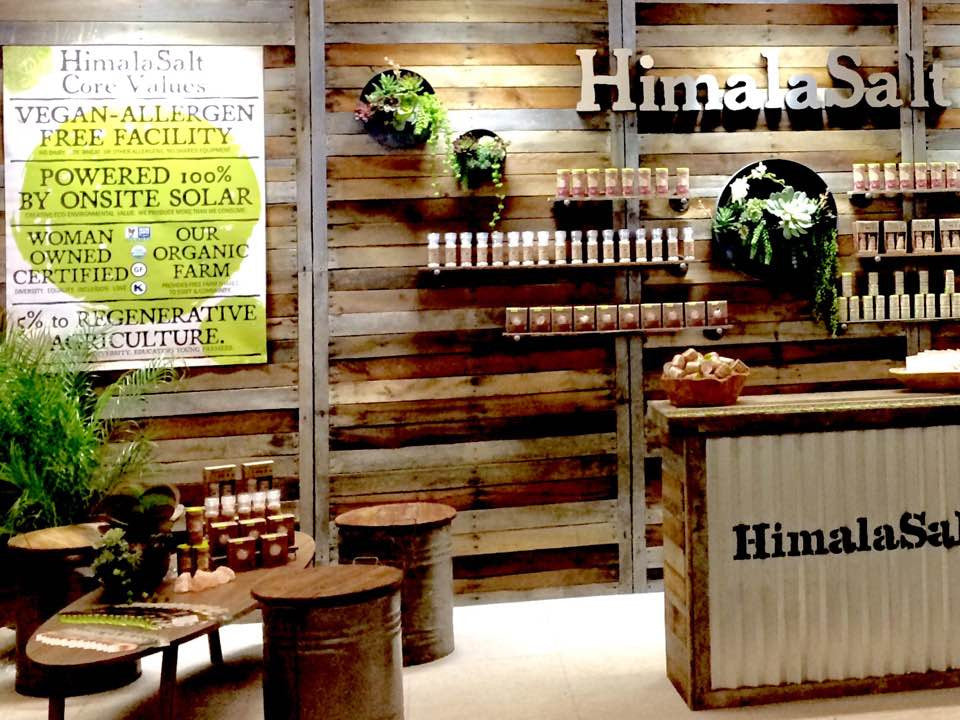 November 09, 2022
Our salt containers arrive from the Himalayas with pallets made of exotic hardwood scraps like teak, mahogany, cherry, and other beautiful species.  Not one to waste, and certainly one to appreciate natural beauty, we bought a bench-top planer and got to work!
After having created a snackbar surround in my kitchen and sliding barn doors to hide our whole-building water system, a tradeshow booth was the next natural step.
From design, planning, and execution, we built a beautiful booth in-house that garnered ooohs and aaahs and loads of love and recognition at Natural Products Expo West this past March - for our forward thinking innovation and re-use of materials.  Thanks to our team, especially lead builder Brian Ross (we love you Brian!)
Save
Save
Save
Save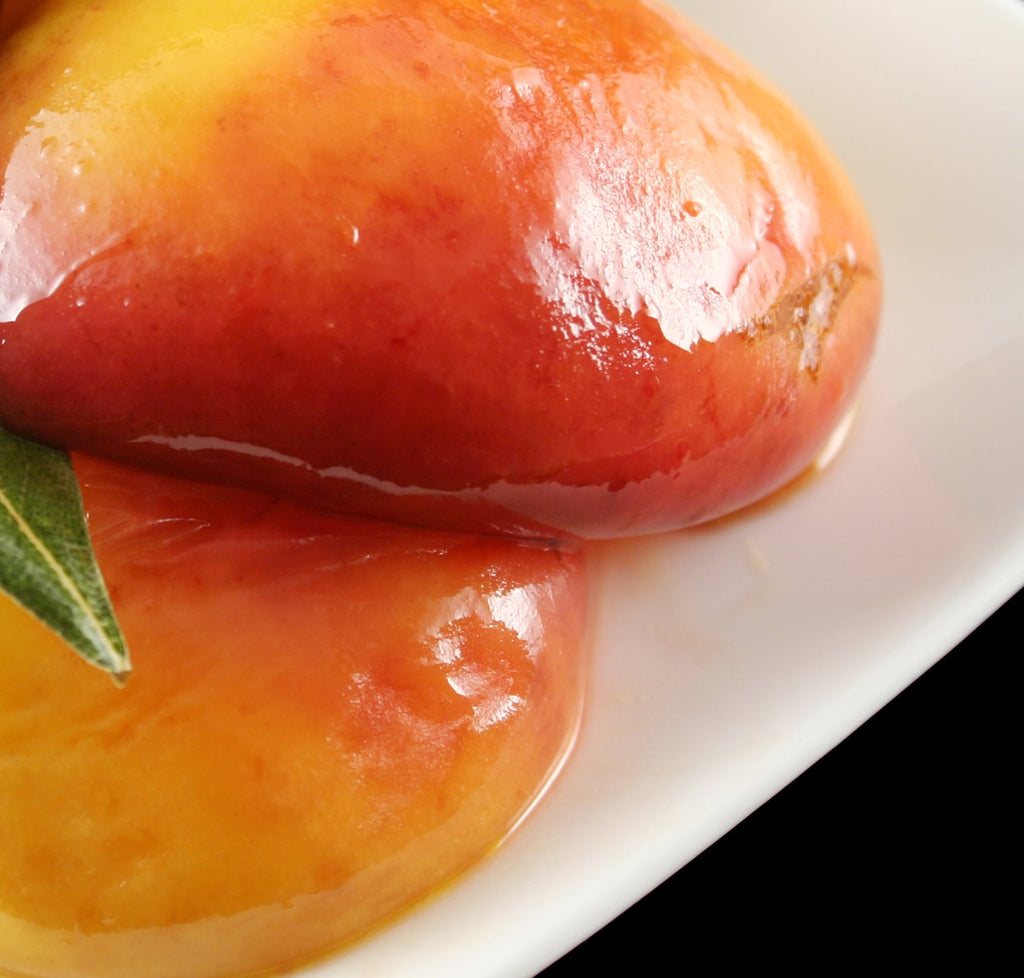 November 09, 2022
I originally published this recipe on February 24, 2009 on my old blog.  It's such a winner, it deserves a special place, especially around holidays, celebrations, and pleasing friends.
Ingredients
1 tbsp HimalaSalt Organic Peppercorns
1 cup Port Wine
Peel of ½ organic lemon
1 organic vanilla bean
6 organic bay leaves
½ bottle organic red wine
2 ½ tbsp agave nectar
6 ripe organic peaches

Place peppercorns in a square of cheesecloth and the tie securely with string. In a large saucepan, combine the port, lemon peel, vanilla bean, bay leaves, wine, pepper sachet and bring to a boil. Stir in agave and remove from the heat. Add more agave if needed, cover and set aside. Half fill large saucepan with water and bring to a boil. Plunge peaches into boiling water and let them sit there for one to two minutes, then rinse them under cold water and peel. Place them in the warm wine over medium heat and bring to simmer 10 minutes. Remove from heat, cover and cool. Remove fruit from syrup and place it in shallow bowl. Pick out bay leaves to use as garnish. Cut vanilla bean into fine slices for garnish. Set aside in a cool place, (not the frig) until ready to serve. Get your ingredients at www.himalasalt.com